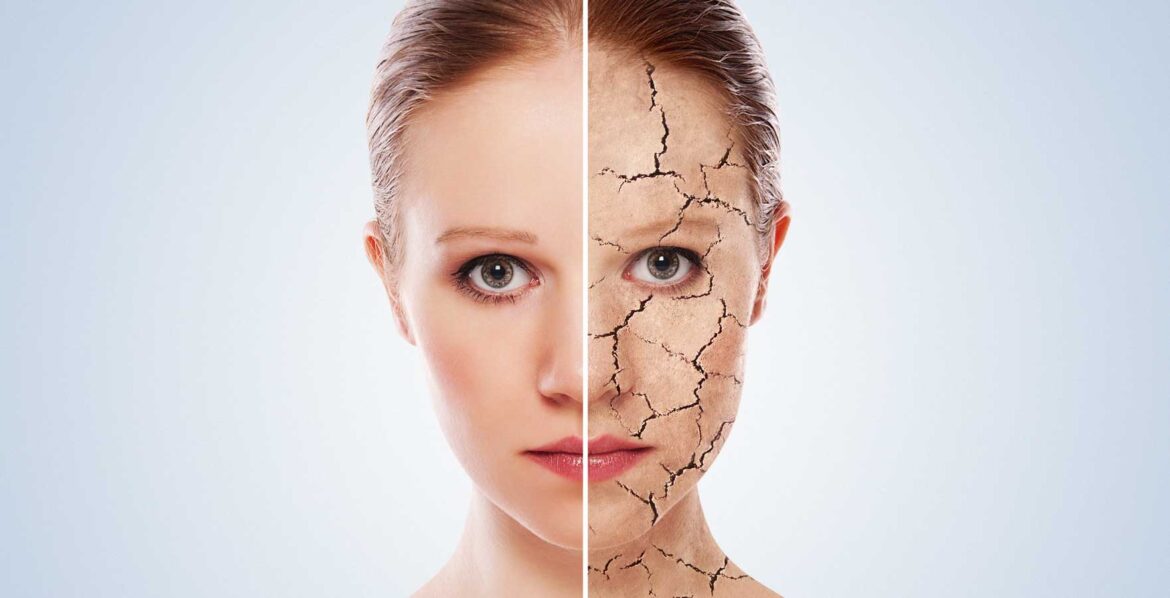 Suffering from a wind chapped face or frizzy flyaways? Don't miss these simple & natural tips for healthy skin and hair this winter!
Cold temperatures + bracing wind + dry air = the perfect recipe for dry skin and brittle hair.
Winter self-care doesn't have to be complicated: These natural tips for healthy skin and hair will help you navigate the coldest months of the year.
How to Prevent Dry Skin in Winter – Naturally
A wind chapped face, flaking nose, and itchiness: We all know the dreaded signs of winter. Try these 8 tips to avoid dry skin in winter.
1. Keep Yourself Covered
From the great outdoors to office commutes, wearing multiple layers is crucial for protecting skin against the elements.
Winter sunburn can really cause dry, wind chapped faces. Before heading out the door, apply a moisturizing mineral sunscreen – something that should already be part of your daily routine!
3. Avoid Hot Showers
After spending time in frigid temps, the idea of a hot shower probably sounds inviting. However, hot showers can quickly strip the body's natural oils from the skin's outermost layer (also known as transepidermal water loss).
4. Consider a Moisturizing Bath
For super-dry skin, one of our favorite winter dry skin remedies is a warm bath (not hot). Dermatologists often recommend the anti-inflammatory properties of colloidal oatmeal or a spoonful of coconut oil in bathwater or DUPAS Liquid Soap and Body Wash Collection can also come in handy.
5. Choose a pH-Balanced Body Wash
Healthy skin has an ideal pH level of 5.4- 5.9 – and your skin products should reflect that. We're happy to announce that DUPAS Liquid Soaps and Hand Wash Collection are pH balanced and friendly.
Unfortunately, most soaps and body washes in Pakistan have high pH ranges (upwards of 9 or 10). And your skin might be extra irritated if you're using products with perfumes, sulfates, and other harsh ingredients.
6. Moisturize Immediately After Baths & Showers
Healthy skin is hydrated skin. After patting yourself dry, apply a natural moisturizer within the first 3 minutes of stepping out of the shower or bath.
With its 99.3% natural formula, our skin and eco friendly products are with rich, plant-based ingredients. No fragrances, silicones, parabens, phthalates, formaldehyde, petrochemicals, or nut-based ingredients: It's the ideal candidate for all-over moisture.
7. Buy a Humidifier
When heating systems are turned on, the air in your home expands and loses moisture content. If moisture isn't added back into the air, you're more likely to wake up with parched skin. The quickest fix? Run a humidifier with distilled water while you sleep.
There are, however, a few ways to increase the humidity in your home without a humidifier:
After stepping out of a bath, allow the water to cool and evaporate before draining.
Leave your bathroom door open when you take a shower.
Instead of using a tumble dryer, hang up damp clothes and bedsheets.
Place bowls of water next to your heat source(s).
Run an essential oil diffuser with pure, distilled water.
Let a full kettle or saucepan of water boil.
8. Drink More Water
We all know that dehydration causes dry skin and hair, but we tend to drink less water during colder months. You don't need to guzzle pitchers of freezing water: Up your daily intake by consuming tea and mugs of warm water.