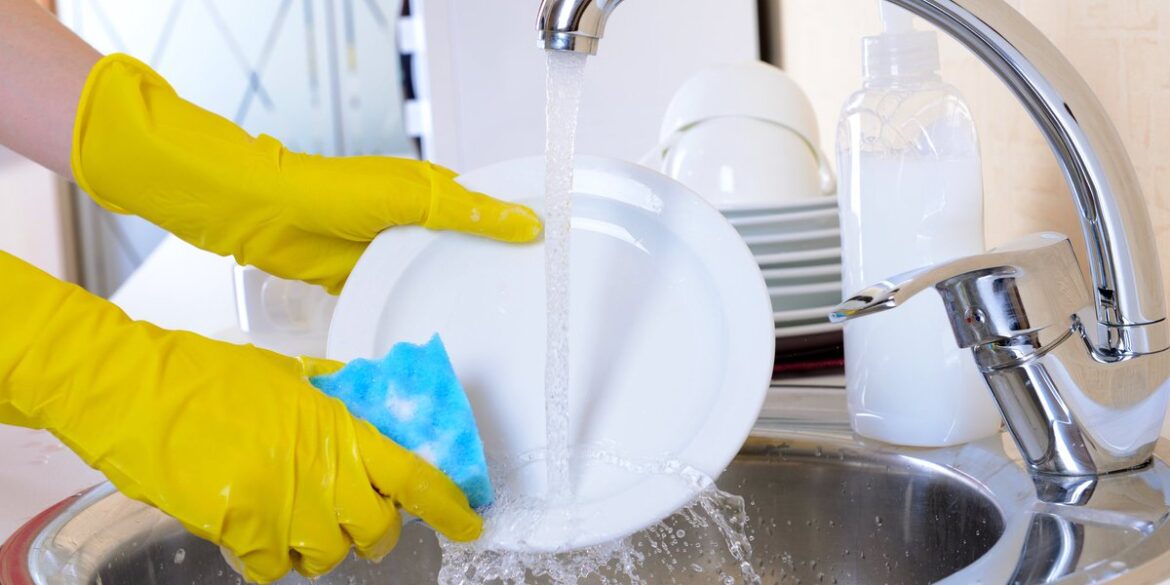 The boring and tiring of all the house chores is washing dishes. Dish washing is fairly easier process in the west as every household has installed dishwasher machines. In Pakistan and other South Asian countries you wash dishes the manual way. Every home has a traditional soap with a scrub, to wash and rinse each and every dish by hand.
After a delightful meal, nobody desires to enter the kitchen waiting for a mound of dirty dishes.  This dish washing is a never ending process. There is always a mountain of dishes waiting to be cleaned. So here's how you can make this process easier
1.     Use warm water
Almost all our foods are cooked in oil or vegetable ghee. Cleaning the oil from the utensils can be a difficult task.  You might have to sometime wash the dish repeatedly to get rid of all the lubricant. This becomes really frustrating. So it is better to use warm water. Heat up some water and use it to remove the stubborn oils from the dishes.
Not only will it remove the grease but it will also kill off any germs and bacteria that flourish in cooler water. When washed with warm water, the utensils will air-dry faster as warm water evaporates faster.
2.     Use dishwashing liquid
It is time that every household switches from soaps to dishwashing liquids. Dishwashing liquids make your washing easier in a number of ways. Firstly you don't need to place a separate soap holder to keep in the soap plus no worry about the mess soap creates. Secondly, soap bars dissolve away very fast. You need to be extra careful to not let any water in the soap holder. Lastly, dishwashing liquids provide a way better cleanliness compared to soap bars.
There are many dishwashing liquids in market. DUPAS is an emerging toiletries brand in Pakistan. Their Glaze Dishwashing Liquid has received great reviews that provide a germ free wash at really economical prices.
3.     Put on rubber gloves
You can't skip washing dishes, so care for your hands.  Using warm water to clean dishes does help the dishes but can be harmful for your hands. So make sure you wear gloves to provide the essential protection to your hands. A bonus tip: before you put on gloves apply some cream or lotion on your hands giving them a softer feel.
4.     Scrape and soak
The big pots often have residue stuck at their bed which is very persistent and becomes hard to clean. Not only big pots, but the dirty dishes that have been left dirty overnight or over the day become hard to wash. So, if you don't have time to wash at least try to scrape off the food and just pour some water on it. If not all, you must soak cereal bowls, bake ware and pots or utensils that have some food stuck at the bottom.
5.     Start out clean
You can save a lot of time and your energy if before washing all the required items are in place and ready to be used. All the brushes, scrubs, cloths should be clean. Also make sure your washing sink is clean too.
6.     Follow some order
Don't just stack your sink with all the dirt dishes. You will just end up with bacteria and dirt all around. Try to follow some order.  If any utensil requires scraping or the dirt has become hard soak it in water to ease the dirt. Then go for washing starting with glass ware. Then clean cups followed by plates and cutlery. At the end, wash the items that were soaked before.
7.     Give yourself a head start
After you are done washing, make room for the next load of dishes. Wash and rinse the skin with soap. Also wash the sponges and if they require replacing put in new ones. Put away any dirty clothes in the washing machine. Bonus tip: you can clean your sponges my dampening them and then microwave them for 40 seconds.
8.     Play a beat in background
Though it is a duty but it won't hurt to make it enjoyable or light on the mood.  Put on some of your favorite music in the background and sing your way through the dishes.
Takeaway
Systemizing anything can make performing that task easier. Same goes for doing dishes. Use right products, warm water, create an order and follow it and some of your favorite beats; all these will make washing enjoyable and easy-peezy.